Millenium Stadium
Saturday March 12th we sang at the Wales/Ireland rugby game at the Millenium Stadium in Cardiff with Côr Godre'r Aran and Cantorion Colin Jones. The singing was superb – it certainly helped Wales beat Ireland on the day! We have a few rugby players in our midst and it was difficult to restrain some from running on the field to help tackle the Irish!!
On the field we sang Gwahoddiad, Llanfair,(to a fairly empty stadium at the time) Sosban Fach, We'll keep a welcome, Delilah and the favourite of the day - Fields of Athenry. Many other versions of these were sung in the Angel Hotel after the game!
More photos in the Gallery.....
We eagerly look forward to the next opportunity to sing at this fantastice venue.....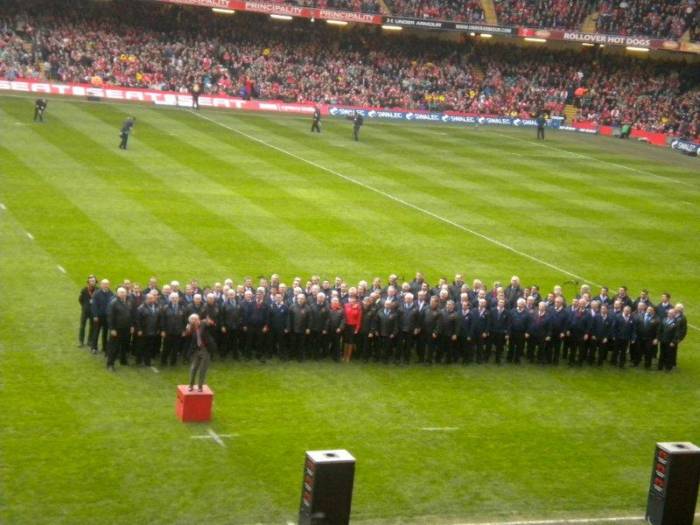 Latest News
Santiago de Compostela
Our latest trip was to the beautiful ancient city of Santiago de Compostela in Galicia, North West Spain. We were invited to participate in the main ceremony of the day, 'The Pilgrim's Mass' at the cathedral in Santiago. Later on in the week we were the guests of the 'Coral Lestonnac Singers' and the 'Lambranzas da Ria' folk dancers and singers in a grand concert at Cangas do Morrazo near